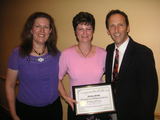 We're So much More than just Music
Our Passion is about starting children on a journey to a lifelong love of music
Research proves that early integration of music into your child's daily routines means improving their ability to think, reason, create, and express.
With more than 25 years experience in early childhood development, Kindermusik is the world's most respected name in musical learning. A a trained and licensed educator I provide a carefully researched, developmentally appropriate music and movement program for children aged 0 to 5 years both in class and at home!
Music has always been a part of my life. Having learn't piano and organ from a young age, self taught guitar and being involved with school and community choirs I guess it was inevitable to come back to music after a successful corporate career.
Although I already taught piano, having my own child made me re-evaluate what I wanted for her musically and a search around the local area revealed that there wasn't anything available at that time for very young children. So I decided to train and become a Kindermusik Educator myself becoming licensed in 2001.
I love to hear parents say "I haven't got a musical bone in my body" It simply isn't true. Every bone in your body is musical you probably didn't have the opportunity to bring it out! Give your child that chance, there is so much to be learn't through music - it really is about development of the whole child. I love to see the children develop and grow becoming confident little people.
I am truly grateful to be able to share in your child's development. Kindermusik really is my lifes best work.
Come and join us for a musical journey. Help your child be the best they can be, after all a good beginning never ends.
If you are interested to know more about the Simply Music Piano Program that I teach go to www.simplymusic.com
or, If you would like to know more about Kindermusik have a look at the international site at www.kindermusik.com
Regards
Shirley Webb
Program Director
"In the very crowded world of children's educational classes, Shirley brings genuine talent and skill to her Kindermusik sessions. Shirley knows how to keep the children focussed and engaged and is kind and gentle in her manner. I highly recommend Shirley's classes". - J. Cox
Recipient of award from Kindermusik Australia for Outstanding Service & Dedication on the Kindermusik Educators Advisory Board 2006 to 2008